BUFFALO, N.Y. — New York Attorney General Letitia James has filed a lawsuit against Buffalo landlord for allegedly failing to address lead-based paint hazards in numerous properties in East Buffalo. 
Raiszadeh Group, owned by Farhad Raiszadeh and his wife Shohre Zahedi, have been cited for lead paint hazard violations at 47 of their 75 properties.
According to the Attorney General's Office, 16 children were diagnosed with lead poisoning while living at one of the properties.
The lawsuit would require Raiszadeh Group to pay penalties and restitution to the families affected. The group will also be required to give up ill-gotten profits like rent, which totals around hundreds of thousands of dollars. 
"In Buffalo and throughout New York, Black and brown children and their families disproportionately suffer the lifelong impacts of lead paint exposure," James said. 
"We cannot allow landlords' neglect to steal our children's futures. We will hold the Raiszadeh Group accountable for their actions and will continue fighting to ensure all children are able to grow up in safe and healthy homes."  
The lawsuit also seeks to have the lead issues addressed with the following action: 
Regularly inspect rental units for lead hazards and remedy all areas of concern in a timely manner; 
Follow lead-safe work practices as set forth by the federal EPA and Erie County when conducting lead paint renovations;  
Provide tenants with accurate lead disclosures when required bylaw; and  
Hire an independent monitor to supervise and report to OAG on the defendants' compliance.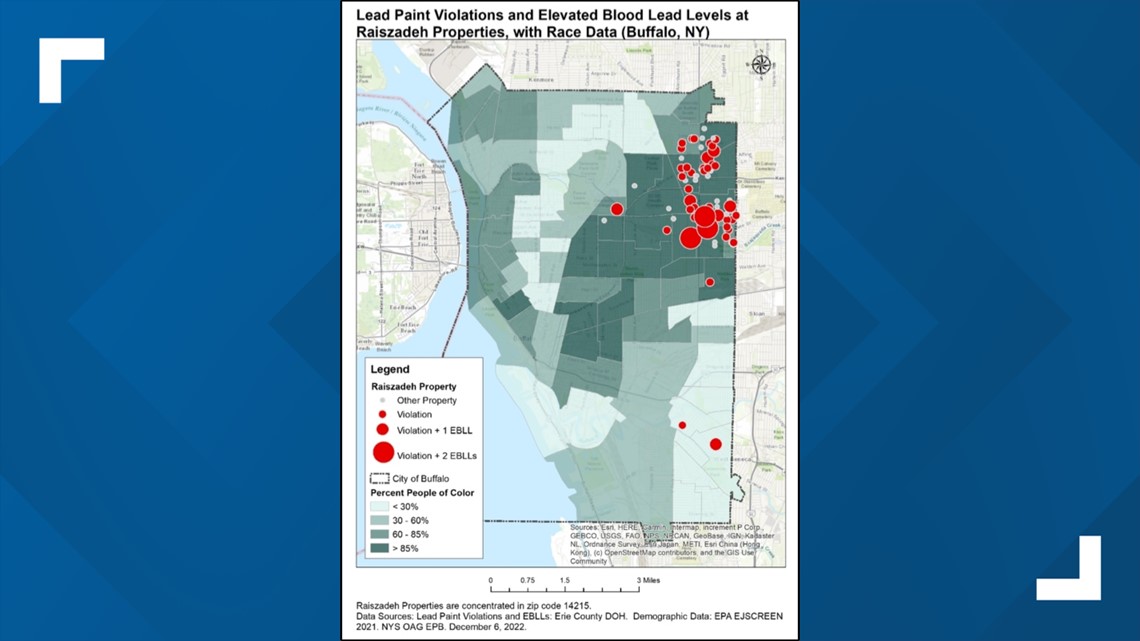 The lawsuit also names are Prime Heritage Homes, LLC, Premier Heritage Homes, LLC, Premium Heritage Homes, LLC, Maxinnova, Inc., and Maxinnova Defined Benefits Plan. 
Erie county and the City of Buffalo are co-plaintiffs.
"Repeated, flagrant violations of safe housing laws have resulted in this legal action, and I thank Attorney General James for bringing it. This landlord was well aware of the danger he was placing his tenants in and had been advised to remediate his properties numerous times by the Department of Health," Erie County Executive Mark C. Poloncarz said. 
"There is no excuse for his failure to do so and it is reprehensible that he willfully allowed these dangerous conditions to continue. The law exists to protect tenants and punish wrongdoers, and now this landlord will experience the consequences of his actions." 
"The City of Buffalo's Department of Permit and Inspection Services, like other municipalities, has legal enforcement limitations in holding out of town slumlords accountable for exploiting and endangering our residents," Buffalo Mayor Byron W. Brown said. 
"Slumlords use sophisticated business structures to evade city codes and laws that would force property owners to provide safe and suitable housing. I am thankful for the continued support of Attorney General James' Office to bring these bad actors to justice and keep our residents safe."  
"They failed to address or remediate conditions that can cause lead poisoning, such as chipping, or peeling lead paint, or lead paint dust around windows and doors, and so we're seeking an EPA assessor who will go to these 70-some-odd properties and do testing. And in the event that families and children need to be relocated, they will be relocated and that expense will be born by, paid for, by the landlord who unfortunately ignored for far too long lead paint violations and citations that had been filed against him by local authorities," said James.
An online search for a way to contact Raiszadeh on Tuesday only turned up a San Diego address.